Pictures by PaygOps and Solarly
We are thrilled to present a new and exciting Paygo-enabling hardware: the Paygo & Monitoring Dongle, developed by Solarworx in close collaboration with Victron Energy, to turn some of Victron Energy devices into Paygo. This innovative Dongle is fully compatible with PaygOps and other last-mile management software, thus strengthening the shared mission of partner organisations to unlock access to clean energy and essential services for those who most need it.
Victron Energy has always been known for the reliability and outstanding quality of the inverters and solar charge controllers that they manufacture. However, some of their devices were not Paygo ready and, therefore, not fully accessible for unbanked communities, until now. Supported by Victron Energy, Solarworx has created a Paygo dongle that connects through the Victron VE.Direct interface with a large number of compatible Victron Energy devices, such as the Phoenix, RS and Smartsolar MPPT.
"We are very excited by the release of this dongle as we are convinced it will help a lot of companies in the solar industry to use our high quality and long-lasting products to build paygo Solar systems. We already have very good feedback from our customer base. Solarworx did a great job at designing and manufacturing this dongle. We are working in close cooperation with them to improve the features of the dongle and provide fast and efficient support."

Clément Joulain, Sales manager, Victron.
The Dongle presents two core functions: firstly, it puts the Victron Energy device into Paygo mode, meaning that the Victron device will limit or entirely stop its operation if the customer has not entered a valid token. Secondly, it allows for optional monitoring, enabling customers to retrieve data from their Victron devices remotely from the field using the Solarworx API or interoperable token systems like OpenPAYGO™ Token. Lastly, the dongle can be re-used in a new Victron's system when the system is fully paid by the customer.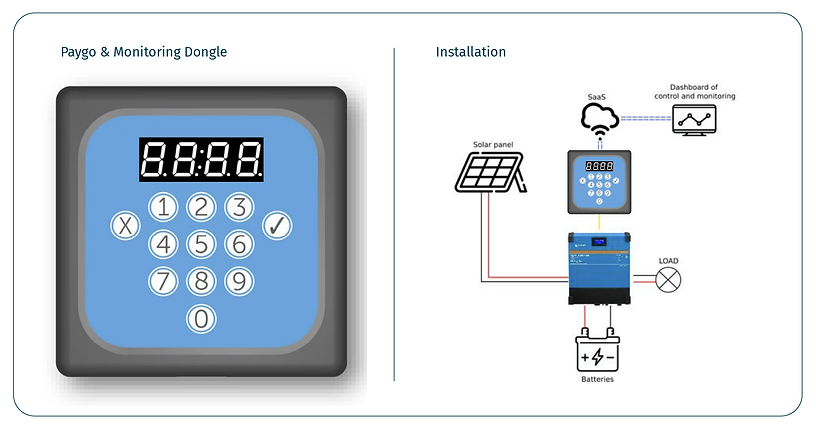 As Clément from Victron explains, "the dongle allows a total flexibility and freedom in system design, from 0.25 to 72 kVA output power, and paygo systems can be built with DC output or AC output". Moreover, the Dongle can be wall-mounted right next to the Victron Energy device, making it very easy to install. It comes with a simple display to show the remaining token time and other device specific parameters, like voltage and current. As expected, it includes an integrated keypad for customers to enter the tokens. The connection between Victron Energy devices and the Dongle is a 4-wire cable that comes in the package. The device can be powered externally, but thanks to its energy efficient design, it can also feed directly from the Victron VE.Direct bus, going into a sleep mode if not in use. The Dongle is interoperable with PaygOps and most last-mile management systems in the market, such as PaygOps.

Piloting the Dongle with Trusted Paygo Companies
"With the implementation of the Dongle, Paygo companies who distribute Victron equipment can significantly increase their total addressable market by allowing end customers to pay for their SHS in instalments, while keeping the upper hand due to the advantage of having a locking mechanism within the Dongle that allows the LMDs to stop the Victron device from functioning should the customer fail to comply with the repayments. Unlike regular Solar Home Systems, this locking mechanism can not be circumvented, thus making tempering near impossible."

Felix Boldt, CEO, Solarworx
One of those Paygo companies who see great value in the Dongle is Solarly, an esteemed PaygOps partner who aims to implement the Paygo-enabling device to support their distributed devices in a rent-to-own business model with the possibility for the end user to have a warranty extension after the end of the loan. In a later stage, they intend to test the Energy as a Service business model (EaaS), for which the Dongle and PaygOps are perfectly suitable, aiming to unlock more ways for customers to benefit from clean and reliable energy and efficient after-sales services.
"PaygOps is part of our ecosystem for managing all of our Paygo and non-Paygo devices. We started Solarly with the willingness of developing internally our own software for our operations. After realising the scale of work, it would represent reinventing the wheel, we chose PaygOps and don't regret it!"

Michel Fripiat, CTO & Method Officer, Solarly
Among other trusted distributors, Solarly is working closely with Solarworx to pilot the Dongle, for which they're planning to install eight devices in 2023, looking forward to analysing both the technical feasibility and the business model itself. The first installation was carried out at an end client's house last July, in a remote area close to Batouri, east of Cameroon. The installation contained 900Wp of solar capacity and 450Ah 12V lead-acid GEL batteries and was powered by a Victron Phoenix 800/24. The client will be paying in a Paygo modality for one year.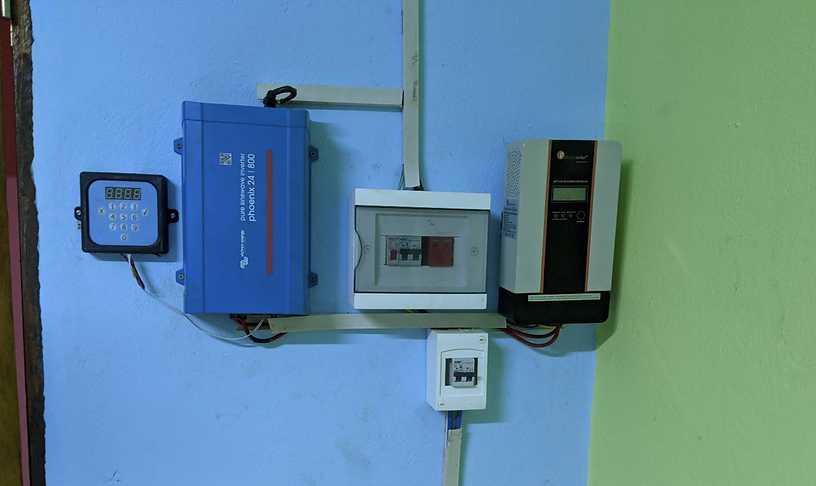 Further on, the distributor plans to install a few dozen Dongles by the end of 2024. Solarly has recently won a tender to implement 50 productive use projects, for which they plan to include a Dongle to test the Paygo model further.
PaygOps has been used by Solarly as their core platform to manage the sales, contract management and after sales around their own Solar Home System, the SolarlyBox. They acknowledge the value of extending their Paygo product portfolio while using the same software. "Using the same platform is a huge advantage for us, no extra cost for buying another tool and no training is needed for our internal team, from accounting, the sales to the aftersales team", adds Michel.

"The Dongle is the perfect example of the kind of cross-company technical collaboration that the industry needs to keep fostering Paygo. We're excited to see two leading manufacturers like Solarworx and Victron Energy engaging in such a valuable development. On the other hand, we're proud to be supporting our partner Solarly, with PaygOps flexibility, in their mission to bring sustainable and reliable products to the unbanked."

Thibault Lesueur, Co-founder & CCO, PaygOps
Robust Hardware + Flexible Software = an Enhanced Paygo Distribution
Having a robust device like the Dongle, fully tailored to Paygo solar distribution and compatible with PaygOps and other management platforms, makes it easier for Solarly to monitor their receivables (and therefore payment defaults), after-sales service, and other parts of the business, helping them to deal with financial partners for upstream financing or debt buy-back.
Furthermore, they're certain that with the implementation of this new device, and supported by PaygOps, they can improve the quality of their services and, therefore, be able to sell their products to more people thanks to the flexibility of the payment plans, particularly on more powerful productive-use installations.
In addition, our partner expects to keep improving their after-sale services, with a high-quality, affordable product that comes with good warranties and international certifications.
Working alongside key players in the industry such as Solarworx, Victron Energy and PaygOps, represents a huge advantage for Solarly, as they can benefit from a robust supply chain that allows them to effectively streamline operations while focusing their resources accordingly. In the words of their CTO, "a solution developed in-house requires investment in R&D and maintenance, and to be competitive on price, we need to reach a certain volume. So, we prefer to focus on where we have the most added value: distribution in the field."
Are you a distributor? Explore the Dongle features here. Interested in selling pools of receivables and getting instant liquidity to finance the distribution of Solarworx and Victron products? We invite you to discover Bridgin, our receivables finance aggregation solution, developed by PaygOps to streamline larger, healthier volumes of capital to last-mile distributors. And, in case you're wondering, it's interoperable with all Paygo management platforms in the market. We'd be happy to discuss it with you. Contact PaygOps for more information.
About PaygOps
Solaris Offgrid's flagship fintech software, PaygOps, enables credit to be provided to the bottom of the pyramid for essential products like solar home systems, agri-inputs, water pumps. The end customers pay incrementally via mobile money under a PAYGO model. PaygOps provides the software infrastructure to manage the contracts, payments and related communication for the local retailers of such products. Our affordable modular and interoperable solution connects energy and payment methods (Pay-as-you-go, mobile money) to a suite of enterprise applications that allows the smooth management of lease financing and field operations, while providing key financial data and metrics to investors.
About Victron Energy

Victron Energy is a globally recognized company specializing in power solutions for off-grid applications. With innovative and cutting-edge technologies, they provide reliable and efficient energy storage, conversion, and management systems. Their comprehensive product range includes inverters, batteries, solar charge controllers, and monitoring tools. Their commitment to quality and customer satisfaction has established them as a leader in the industry.
About Solarly

Solarly is a leading provider of renewable energy solutions, specializing in solar power systems. With their cutting-edge technology and expertise, they design and install cost-effective and efficient solar energy systems for residential, commercial, and agricultural properties. Committed to sustainability, Solarly aims to reduce carbon footprint and provide clean and reliable energy sources. Their team of professionals ensures seamless installation, excellent customer service, and long-lasting results.
About Solarworx
Solarworx is a German manufacturer of a new generation of solar home systems for off-grid households and businesses. Our goal is to foster the global energy transition and connect the 1.2 billion people living without access to electricity around the world. With our productive use bundles we aim to create local value and circular economy within the rural areas.